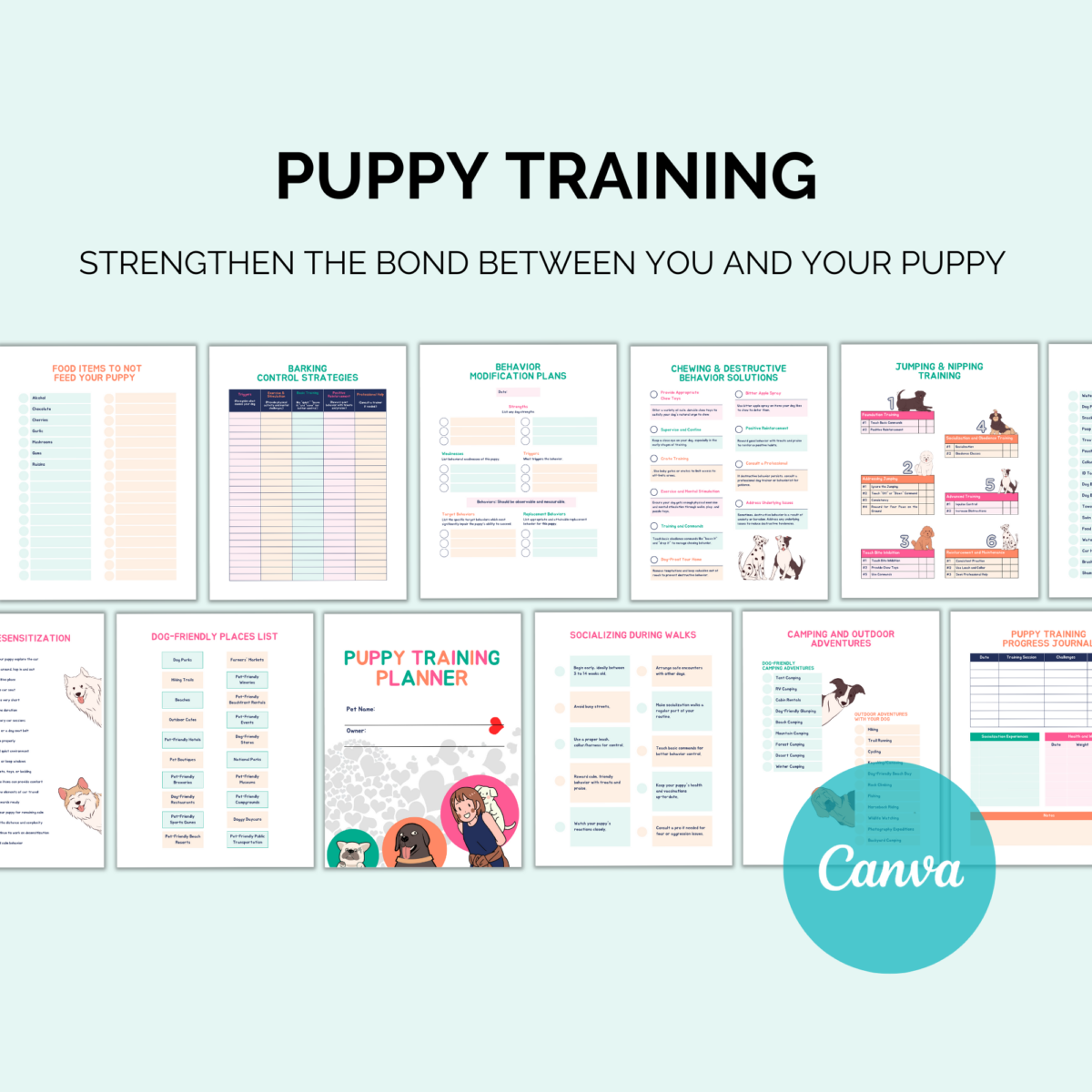 This helpful guide offers tips, step-by-step instructions, and handy checklists to help you train your furry bundle of joy. Helps you start your puppy's journey towards obedience and happiness.
Pages included:
Cover Page
2 Page Table of Contents
Section 1: Introduction and Overview
Puppy Training Planner Introduction
Goals & Vision
Pet Profile
Section 2: Preparing for Your Puppy
Puppy Checklist (Essential Supplies)
Puppy Proofing Your Home
Puppy Training Budget
Puppy Training Timeline
Choosing the Right Breed for Your Lifestyle
Section 3: Basic Training
Puppy Training Basics
Positive Reinforcement
Commands and Cues
Clicker Training Guide
Crate Training Plan
Training Schedule By Week
Section 4: Socialization and Behavior
Socialization Checklist
Introducing Your Puppy to Different Environments
Handling and Grooming Desensitization
Problem Behavior Identification
Separation Anxiety Management
Section 5: House Training and Potty Training
House Training Schedule
Potty Training Log
House Training Troubleshooting
Indoor Potty Area Setup
Teaching Bell Training for Potty Time
Section 6: Obedience Training
Loose Leash Walking Training Checklist
Recall Training
Off-Leash Training
Leave It and Drop It Commands
"Quiet" Command Training
Section 7: Trick Training and Enrichment
Trick Training Ideas
Puzzle Toy Recommendations
Brain Games & Enrichment Activities
DIY Agility Course Planning
Hide and Seek Game Instructions
Section 8: Health and Care
Puppy Health Record Tracker
Vet Visits Tracker
Pet Grooming Schedule
Dental Care Routine
Exercise & Activity Log
Vaccine Tracker
Section 9: Feeding and Nutrition
Puppy Feeding Schedule
Food & Treat Inventory
Feeding Guidelines & Portion Control
Homemade Treat Recipes
Special Dietary Needs Tracker
Food Items To Not Feed Your Puppy
Section 10: Behavior Challenges and Solutions
Behavior Modification Plans
Barking Control Strategies
Chewing and Destructive Behavior Solutions
Jumping and Nipping Training
Section 11: Traveling and Outings
Traveling with Your Puppy Checklist
Car Rides Desensitization
Dog-Friendly Places List
Socializing During Walks
Camping and Outdoor Adventures
Section 12: Record Keeping and Tracking
Puppy Training Progress Journal
Milestones and Achievements
Training Session Notes
Behavior Change Tracking
Photo Diary
Section 13: Puppy Training Resources
Recommended Puppy Training Books
Training Blogs and Websites
Online Training Courses and Videos
Local Dog Training Classes
Training Equipment and Tools Recommendations
Section 14: Puppy Care Network
Vet Contact Information
Trainer and Behaviorist Contacts
Pet Sitter and Boarding Facilities
Grooming Services
Emergency Contacts
Section 15: Financial and Budgeting
Puppy Training Budget Tracker
Training Expenses Log
Cost Estimates for Training Services
Savings Goals for Puppy-Related Expenses
Expense Receipts and Invoices
Section 16: Puppy Training Tips and Guides
Training Tips and Tricks
Problem Behavior FAQ
Puppy Training Glossary
Puppy Training Do's and Don'ts
Training Success Stories
Section 17: Puppy Training Journal
Training Session Reflections
Notable Progress and Breakthroughs
Challenges Overcome
Lessons Learned and Insights
Future Training Goals and Ideas
Section 18: Puppy Social Media Tracker
Social Media Sharing Plans
Puppy Instagram and Facebook Posts
Training Video Uploads
Puppy Training Hashtags
Engagement and Support
Section 19: End of Puppy Training Review
Puppy Training Summary and Review
Achievements and Milestones
Challenges Overcome
Next Steps for Continued Training
Notes and Ideas For Future Puppy Training
Section 20: Puppy Training Graduation and Certificate
Puppy Training Graduation Page
Graduation Photo & Achievement
Puppy Training Certificate
Words Of Wisdom For New Puppy Owners
Future Training & Care Plans
You can edit and customize the Canva templates and use them as your own end product or freebie for your audience.

Reviews for Puppy Training
Features
Every template pack comes with the following included as standard
Works with free software
No need for complicated & expensive software. Your template pack is designed specifically for the free version of Canva!
Super simple import process
No need to zip, unzip or any of that techno-babble! As soon as you complete your purchase, simply click the link on the thank you page and you'll instantly import every design to your Canva Account.
90 days technical support
We're confident that our templates import and work seamlessly, but if you do have an issue getting yours to work our team is here to help.
Unlimited usage
Create unlimited products, freebies, or anything else you'd like for either personal or commercial use by you or on behalf of a client for as long as you like.
Free lifetime updates
We stand by our products. If there is an update required or if we find a way to improve our already great templates, you'll get updates for free, and for life.
Purchase Your Design Pack
Simply click the add to cart button on this page and complete your checkout to get instant access to all your designs
Import into Canva (free)
Inside your account and email inbox you'll have a special link that will import every design you just purchased into your free Canva account. Don't have one yet? No worries – you can create one for free once you purchase!
Customize your templates
Now's the fun part! Adjust the designs, colors, content, and fonts to match your brand – within an hour you'll have a completely unique product that will make your audience jump with joy!
Export & Sell!
Export your new designs to .pdf or any other file type you're planning on selling, and add them to your store, Etsy, Amazon, or wherever you'd like to sell them!
Bonus Course! Canva Quick Start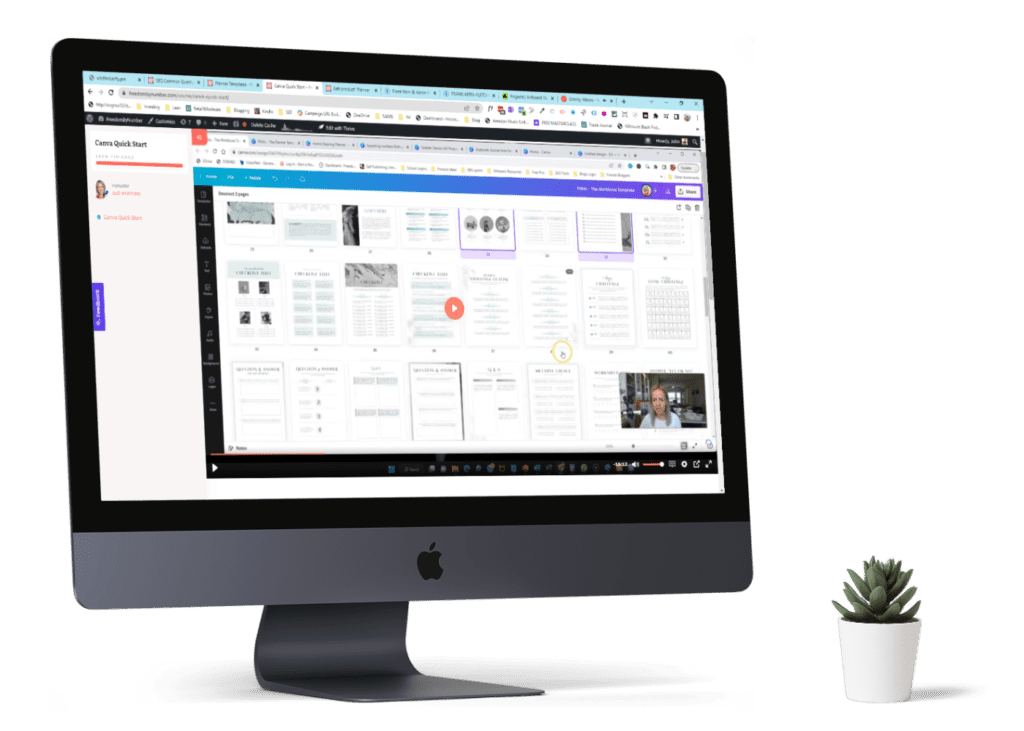 Need help turning our templates into your signature product? This quick training was made just for you! In under an hour, I'll walk you from absolute beginner and give you the skills and confidence to create your product in no time!
Get instant access to Canva Quick Start when you purchase your printables today!
Why choose our templates?
Pixel Perfect
We have professional designers take extra care to ensure every page of our templates look gorgeous, functional, and fun! And if you find any issue with our designs, we will update it free of charge within 3 business days!
Works For Anyone
Whether you're a blogger, stay-at-home mom, 7-figure course creator, or anywhere in between – our templates are created to be easy-to-use and premium for your customers.
Customizable
Within an hour you can customize the layout, colors, content, font, and overall branding so that your templates are truly one of a kind!
Puppy Training
Designed for Canva (free)