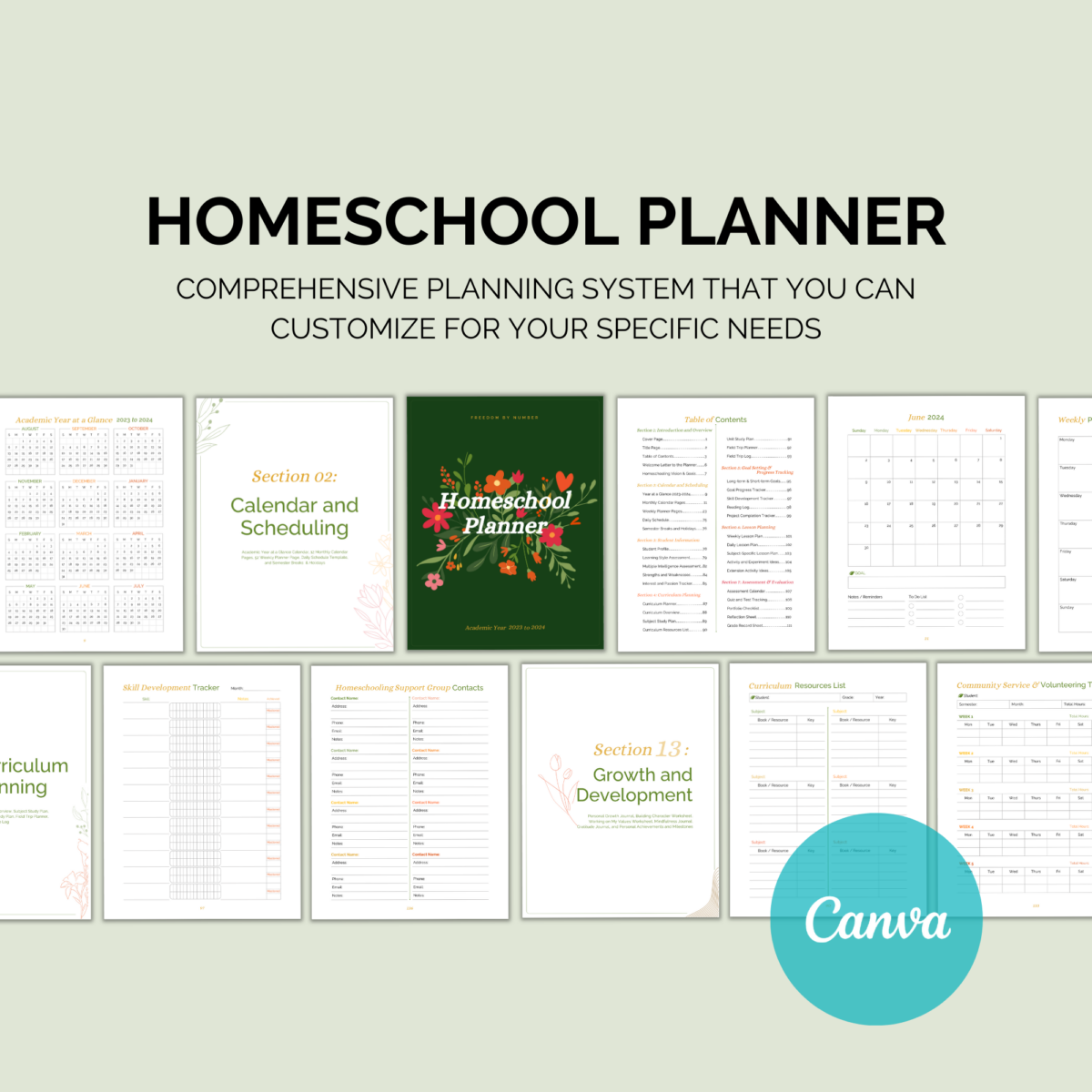 This beautiful planner helps you stay on top of your lessons, keep schedules in check, and make the most of your homeschool experience.
Pages included:
Cover Page
Title Page
Table of Contents
Welcome Letter
Vision and Goals for Homeschooling
SECTION 2: Calendar & Scheduling Cover Page
Academic Year at a Glance Calendar
12 Monthly Calendar Pages
52 Weekly Planner Pages
Daily Schedule Template
Semester Breaks & Holidays Page
SECTION 3: Student Information Cover Page
Student Profile
Learning Style Assessment
Multiple Intelligence Assessment
Strength & Weaknesses Tracker
Interest & Passion Tracker
SECTION 4: Curriculum Planning Cover Page
Curriculum Planner
Curriculum Overview
Subject Study Plan
Curriculum Resources List
Unit Study Plan
Field Trip Planner
Field Trip Log
SECTION 5: Goal Setting & Progress Tracking Cover Page
Long-term & Short-term Goals
Goal Progress Tracker
Skill Development Tracker
Reading Log
Project Completion Tracker
SECTION 6: Lesson Planning Cover Page
Weekly Lesson Plan Template
Daily Lesson Plan Template
Subject-specific Lesson Plan Template
Activity & Experiment Ideas
Extension Activity Ideas
SECTION 7: Assessment & Evaluation Cover Page
Assessment Calendar
Quiz and Test Tracking
Portfolio Checklist
Reflection Sheet
Grade Record Sheet
SECTION 8: Individualized Learning Cover Page
Individualized Education Plan (IEP)
Accommodation and Modification Tracker
Personalized Learning Strategies
Differentiated Instruction Notes
Learning Resources for Special Needs
SECTION 9: Extracurricular Activities Cover Page
Extracurricular Activity Planner
Sports & Physical Activity Log
Art & Creative Projects Log
Music & Performing Arts Log
Hobby & Interest Tracker
SECTION 10: Enrichment & Electives Cover Page
Enrichment Ideas and Planning
Elective Course Ideas
Elective Course Planning Sheet
Skill-Building and Workshops
Foreign Language Learning Planner
SECTION 11: Co-Curricular & Community Engagement Cover Page
Co-op Group Information
Co-curricular Schedule & Activities
Community Service & Volunteering Tracker
Social Events & Playdates Planner
Social Events & Playdates Calendar
Homeschooling Support Group Contacts
SECTION 12: Learning Environment Cover Page
Designing the Learning Space
Supplies and Materials Checklist
Library Book Tracker
Digital Learning Tools
Educational Apps and Websites
SECTION 13: Growth & Development Cover Page
Personal Growth Journal
Building Character Worksheet
Working on My Values Worksheet
Mindfulness Journal
Gratitude Journal
Personal Achievements and Milestones
SECTION 14: Teaching Strategies Cover Page**
Teaching Techniques and Approaches
Motivation and Engagement Strategies
Classroom Management Tips
Teaching Responsibility and Independence
Teaching Different Age Groups
SECTION 15: Parent/Teacher Resources Cover Page
Parent/Teacher Goals and Reflection
Letter of Intent to Homeschool
Resource Books and Articles
Webinars and Online Courses
Professional Development Plans
SECTION 16: Financial & Budgeting Cover Page
Homeschooling Budget Planner
Expense Tracker
Educational Material Purchases
Field Trip and Outing Budget
Fundraising Ideas
SECTION 17: Health & Well-Being Cover Page
Physical Health Tracker
Nutrition and Meal Planning
Exercise Log
Mental and Emotional Health Check-in
Sleep Log
SECTION 18: Technology & Screen Time Cover Page
Screen Time Guidelines
Technology Use Agreement
Trusted Educational Apps and Websites
Online Safety Tips
Screen Time Tracker
SECTION 19: Long-Term Planning Cover Page
High School Preparation and College Readiness
Transcripts and Record Keeping
Career Exploration
Internship and Apprenticeship Work Plan
College Application Checklist
SECTION 20: End of Year Review and Reflection Cover Page
Year End Review Page
Accomplishments and Achievements
Lessons Learned and Improvements
New Year's Goals and Plans
Notes and Ideas for Future Homeschooling
You can edit and customize the Canva templates and use them as your own end product or freebie for your audience.
Reviews for Homeschool Planner
Features
Every template pack comes with the following included as standard
Works with free software
No need for complicated & expensive software. Your template pack is designed specifically for the free version of Canva!
Super simple import process
No need to zip, unzip or any of that techno-babble! As soon as you complete your purchase, simply click the link on the thank you page and you'll instantly import every design to your Canva Account.
90 days technical support
We're confident that our templates import and work seamlessly, but if you do have an issue getting yours to work our team is here to help.
Unlimited usage
Create unlimited products, freebies, or anything else you'd like for either personal or commercial use by you or on behalf of a client for as long as you like.
Free lifetime updates
We stand by our products. If there is an update required or if we find a way to improve our already great templates, you'll get updates for free, and for life.
Purchase Your Design Pack
Simply click the add to cart button on this page and complete your checkout to get instant access to all your designs
Import into Canva (free)
Inside your account and email inbox you'll have a special link that will import every design you just purchased into your free Canva account. Don't have one yet? No worries – you can create one for free once you purchase!
Customize your templates
Now's the fun part! Adjust the designs, colors, content, and fonts to match your brand – within an hour you'll have a completely unique product that will make your audience jump with joy!
Export & Sell!
Export your new designs to .pdf or any other file type you're planning on selling, and add them to your store, Etsy, Amazon, or wherever you'd like to sell them!
Bonus Course! Canva Quick Start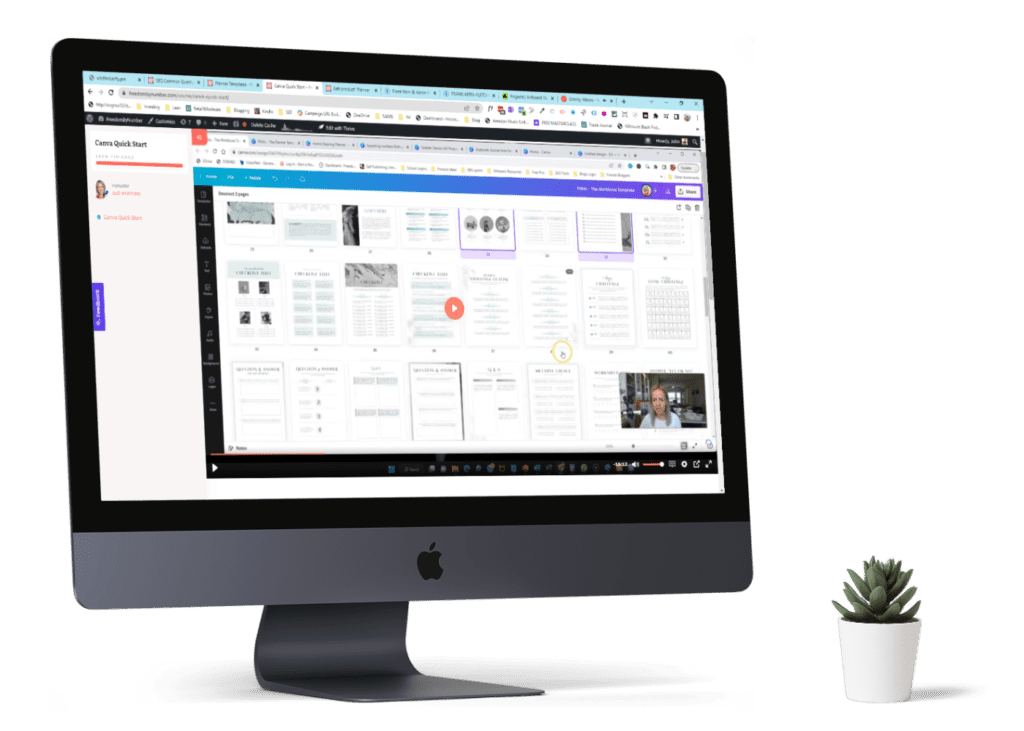 Need help turning our templates into your signature product? This quick training was made just for you! In under an hour, I'll walk you from absolute beginner and give you the skills and confidence to create your product in no time!
Get instant access to Canva Quick Start when you purchase your printables today!
Why choose our templates?
Pixel Perfect
We have professional designers take extra care to ensure every page of our templates look gorgeous, functional, and fun! And if you find any issue with our designs, we will update it free of charge within 3 business days!
Works For Anyone
Whether you're a blogger, stay-at-home mom, 7-figure course creator, or anywhere in between – our templates are created to be easy-to-use and premium for your customers.
Customizable
Within an hour you can customize the layout, colors, content, font, and overall branding so that your templates are truly one of a kind!
Homeschool Planner
Designed for Canva (free)